include_once("header.php3"); ?>
Welcome to StudentsReview!
Uncensored college reviews -- Informative, Awesome & Truthful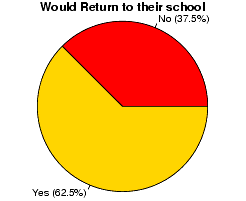 37% of students would not choose their school again.

A Sample College Review
Eastern Florida State College
"BCC is definetly like high school, except there are always a handful of older people returning to school. Most of my classes consisted of 1/2 high schoolers, 1/4 older, and 1/4 18-25 years old. The high school kids forget that this is college and they complain, write notes, talk in class, make excuses, etc. This is a wonderful school if you can't decide where you want to go in ... " more...
Twenty Most Reviewed Universities

Pleased
University Name
City, State
Total
Pensacola Christian College
Pensacola, FL
2646
Bob Jones University
Greenville, SC
831
New York University
New York, NY
563
University of Michigan - Ann Arbor
Ann Arbor, MI
541
Rochester Institute of Technology
Rochester, NY
535
Boston University
Boston, MA
524
University of Houston
Houston, TX
495
Georgia Institute of Technology
Atlanta, GA
440
Pennsylvania State University
University Park, PA
437
George Washington University
Washington, DC
436
University of Illinois Urbana - Champaign
Champaign, IL
435
University of Southern California
Los Angeles, CA
430
Savannah College of Art and Design
Savannah, GA
423
Iona College
New Rochelle, NY
395
Texas A & M University - College Station
College Station, TX
390
Michigan State University
East Lansing, MI
387
Liberty University
Lynchburg, VA
382
Cornell University
Ithaca, NY
378
Kettering University
Flint, MI
375
University of California - Berkeley
Berkeley, CA
372
State University of New York Binghamton
Vestal, NY
366
Fordham University
Bronx, NY
364
James Madison University
Harrisonburg, VA
358
Drexel University
Philadelphia, PA
342
University of Maryland - College Park
College Park, MD
336
Totals

(110789 : 25784 : 97571)

234144 Total Reviews; 3359 Total Universities Reviewed